Spend & Win - Be the 5 Lucky Winners!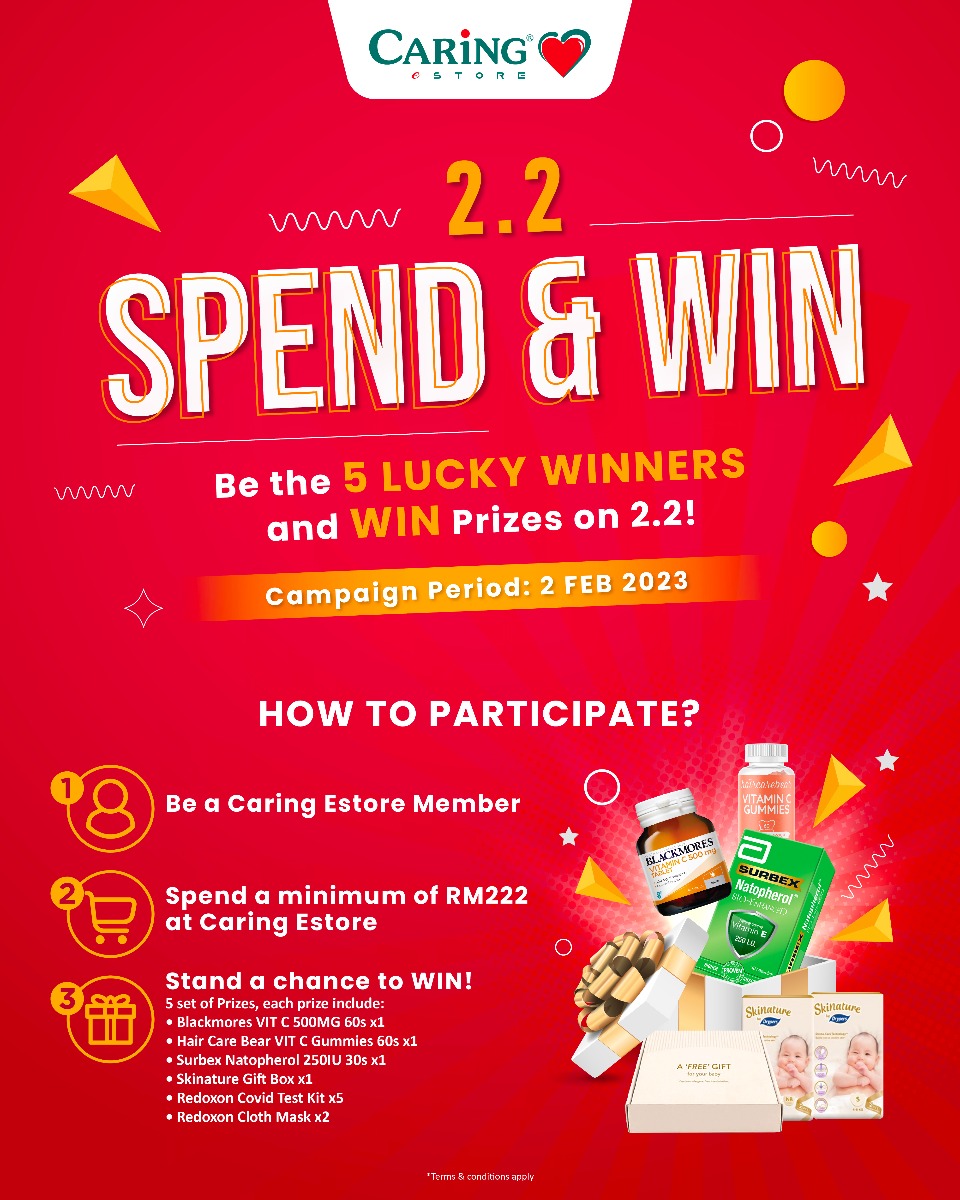 Terms & Conditions:
1. Campaign Date: 2nd February 2023 (2.2 SALE)
2. Participants are advised to read and understand all terms & conditions before participating in any of Caring Pharmacy's campaigns or promotions.
3. The participation criteria as below: • Spend a minimum of RM222 on any product during 2nd Feb via Caring Estore https://estore.caring2u.com/ only. • Shopped as a Caring Estore member.
4. Prizes (5 sets):
• Blackmores VIT C 500MG 60s
• Hair Care Bear VIT C Gummies 60s
• Surbex Natopherol 250IU 30s
• Skinature Gift Box
• Redoxon Covid Test Kit
• Redoxon Cloth Mask
5. Winners' announcement: 10th February 2023 (Homepage of Caring Estore)
• Winners will be chosen at random from the pool who meets ALL participation criteria.
• The final announcement will be on 10th February 2023, at the Homepage of Caring Estore and will be contacted by our team on the prize collection/arrangement.
• Prize will be forfeited, if the winner does not respond before 17 February 2023.
• Prizes are strictly non-refundable, non-transferable for cash or other form of service/product.
• Top 5 Lucky Winners announced will be final and no disputes will be entertained.
6. Caring Pharmacy reserves the right to amend the terms and conditions of this campaign at any time without prior notice, or disqualify any participant engaged in a transaction that Caring Pharmacy considers inappropriate or unacceptable.
7. Caring Pharmacy reserves the right to substitute a prize with another prize of similar value without prior notice.