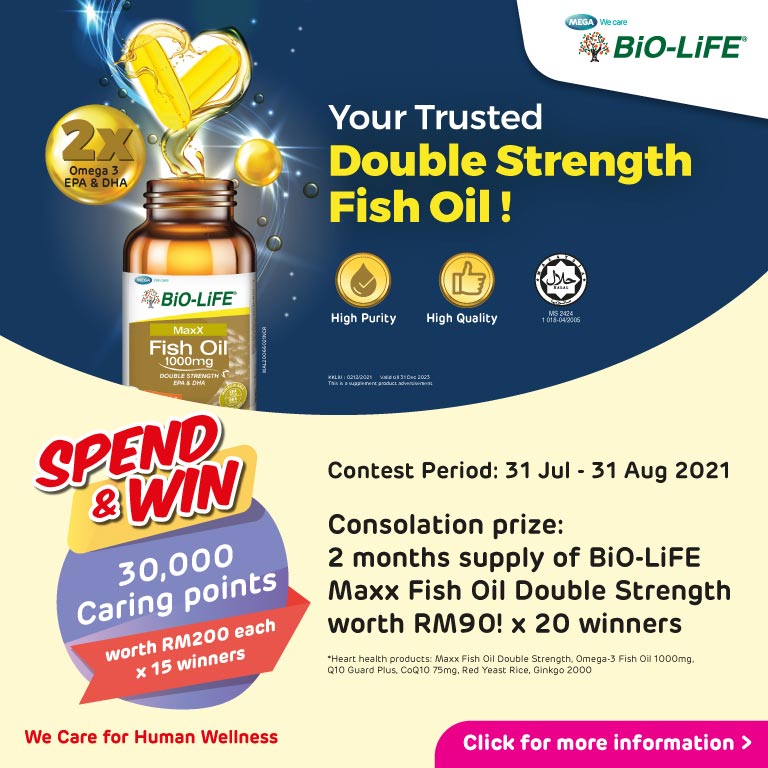 Spend & Win Contest Terms and Conditions
Organizer & Eligibility
The BiO-LiFE / Caring – Spend & Win Contest ["Contest"] contest is organized by BiO-LiFE Marketing Sdn Bhd & Caring Pharmacy ["Organizer"] and is open to all Malaysia citizens aged 18 and above that owns a valid MyKad as of 1st Aug 2021 ["Participants"].
Individuals belonging to the groups listed below are not eligible for this redemption:
The staff of the Organizer [including all its subsidiaries and related companies] and their immediate family members [child, parents, siblings, spouses]; and/or
Representatives, staffs, workers and/or agents of suppliers of SMS, facebook, advertising and/or promotional services to the Organizer [including all its subsidiaries and related companies], and their immediate family members [child, parents, siblings, spouses]; and/or
Individuals that have a direct relationship or connection with any staff of the Organizer [including all its subsidiaries and related companies]
Period
This contest will commence from midnight 0:00:00, 1st Aug 2021 and will end on 23:59:59, 31st Aug 2021 ["Contest Period"]. The Organizer has the right to make any amendments to the Contest Period at any time without any notice. All entries received after 31st Aug 2021 will be void.
Entry Submission & Eligibility Criteria
To enter this contest, participants are required to purchase any Mega BiO-LiFE heart health products (Maxx Fish Oil Double Strength, Omega-3 Fish Oil 1000mg, Q10 Guard Plus, CoQ10 75mg, Red Yeast Rice, Ginkgo 2000) at Caring Pharmacy store or Caring Online Store only @ https://caring2u.com/
Participation/ Entry Method
Participants may participate in the contest via the method as explained below:
Caring Pharmacy customers is auto-qualified to participate in this redemption when he/she purchases any Mega BiO-LiFE heart health products in a single receipt.
Caring Pharmacy customers to Whatsapp receipt with the below format to 017-646 9569
CARINGHEART<space>Full Name<space>12-digit NRIC Number<space>Contact Number
The payment confirmation email from payment gateway such as iPay88 used for online purchased of Mega BiO-LiFE Heart Health products is also accepted as proof of purchase of receipt(s).
Winner Selection, Contest Prizes and Winners Announcement
15 (Fifteen) winners will receive 30,000 Caring points (worth RM 200) each. 10 (Ten) will receive 2 months supply of MaxX Fish Oil (30sx2 worth RM 90 each) as consolation prize.
Participants can purchase and participate for the contest entries unlimited times. However, each receipt will only be counted as 1 entry, and each person is only entitled to win 1 prize. Only original receipt is accepted. No photocopy is allowed.
Eligible participants for the contest are required to provide their IC number, phone number, name, date and the amount of the purchase according to Whatsapp database record during a phone verification prior or during the prize redemption. Failure to do so will result in the Participant losing his/her eligibility and claim.
Eligible participants must present their proof of purchase within SEVEN (7) days after being contacted by the Organizer. Failure to do so will result in the Participant losing his/her eligibility and claim.
The risks of redeeming prizes are in the hands of the participants. All relevant costs and expenses to redeem one's prizes are borne by the participants themselves.
The organizer reserves the right to replace any prizes with items of similar value without prior notice.
Judging Criteria
The decisions made by the judges/the Organizer are final, binding and indisputable. Any form of disputes and/or complaints through any kinds of medium will not be entertained.
Successful Redemption Notice
Successful redemption participants will be notified via Whatsapp, phone call or Caring social media platform by 30 October 2021.
Upon declared as valid entries participants, the Organizer will contact winner to make arrangement on the prize. The Organizer will not entertain any requests to extend the prize redemption or claim period.
The Organizer has the right to revoke the eligibility of winning participants who failed to comply with the prize redemption procedures set out by the Organizer. The Organizer will not responsible for missing or late notices that were caused by factors outside of the Organizer's control.
Winners will be announced on Webpages or any other medium deemed suitable by the Organizer. In the event that a winner did not receive any notices, the notifications on the Webpages or any medium deemed suitable by the Organizer will be deemed a sufficient supplement. Any requests to extend the prize redemption and claim by winners citing excuses or reasons of them not receiving notices will not be entertained by the Organizer.
The Organizer has the right to appoint a third party to facilitate the winner validation process and also the delivery process of the prizes.
Organizer Rights
The Organizer, and its sponsors will also not be responsible or made responsible for:
any mistakes, errors or malfunctions (including errors in notifying winners), exclusions, disturbances, cuts, deformities, operational or transmission delays, connection failures, theft, destructions, amendments, or unauthorized access for entries, or loss or delayed entries, whichever that arose during operation, transmission or otherwise caused by server malfunctions, viruses, bugs or other causes out of their control.
lost or late entries or entries that could not submitted for whatever reason aside from the sole oversight or carelessness on the part of the Organizer. Proof of submission will not be accepted as proof that the entry had been submitted. The Organizer has set up the contest to run "as things are".
this term and condition is regulated by Malaysia law. All disputes or anything in nature similar or related are subject to the exclusive jurisdiction of the Malaysia court.
any incorrect or inaccurate entry details, regardless if it originated from its customers or from any tools or relevant programming used in this Contest or was caused by a technical or human error that may take place while processing the Contest entries.
The Organizer has the right to void the participants' eligibility automatically for any incomplete or late entries or also entries without a valid proof of purchase.
The Organizer has the right to replace contest prizes with other prizes of equal value without prior notice.
Participants and winners will bear in full and be responsible for any liabilities, unexpected incidents, injuries, malfunctions, claims or accidents (including death) that were caused by them entering this Contest or during their contest entries and/or usage of prizes and they agree to relieve the Organizer and its agencies from any claims be it for any forms of injuries, accidents, loss of life or economical losses and others.
Publicity
The acceptance of prizes is taken as permission being granted to the Organizer and its agencies to use the name and/or the photo of the participants for the publicity, advertising and/or marketing purposes without prior notice and/or compensations.
Adhering the Contest Terms and Conditions
Besides these Terms and Conditions, all other conditions and methods for entering this Redemption as stated in https://caring2u.com/ otherwise are binding to all Participants and their Redemption entries.
In the event of any contradictions that involved these Terms and Conditions with any other terms contained in any other promotional collateral for this Redemption, the terms found in https://caring2u.com/ will take precedence and be utilized.
By entering this Redemption, Participants are presumed to have read and agree with all the terms and conditions contained here and will adhere to all and/or any decisions that have been made by the Organizer.
Changes to the Terms and Conditions
The Organizer has the right to change, amend, exclude or add the Redemption Terms and Conditions without prior notice, at any point of time and all Participants are bound to these changes.
Suspension
The Organizer also has the right to void or cancel, redesign, suspend or postpone this Redemption in the event of any unexpected circumstances outside of this reasonable control.
Data Protection
By participating in this contest and/or providing your personal data to the Organizer, you warrant and represent that you have read and understood the Privacy Policy enclosed to these Terms and Conditions and you consent to the Organizer's processing of your personal data in accordance with said Privacy Policy. You agree to indemnity, defend, and hold the Organizer harmless against any loss, damages, costs, claims, actions, or liabilities occurring due to your breach of the aforesaid warranty and representation.
The Organizer has taken the relevant cautionary and security measures to ensure the safekeeping all of the Participants' personal data, and requires all third party data processors to comply to the same measures. Please note, however, that the Organizer can present the Participants' personal data should it be required to do so by the law, or by a search warrant, subpoena, or court order.