Understand Your Child's Nutritional Needs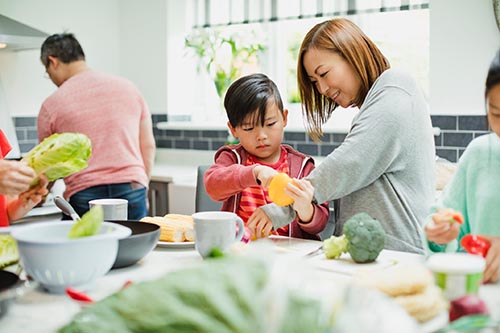 Is my child getting enough nutrition? How much is enough? What nutrients do they need? As parents, questions like these often plague the mind because nutritional support is a crucial factor for children of all ages as they grow up.
There are certain factors that add up to ensure your child receives adequate nutritional support. In fact, up to 80 per cent of a child's height is determined by nutrition, while genetics only contribute around 20 per cent1.
So, here is what parents should know.
The importance of a balanced diet
One of the most common pieces of advice for parents is to ensure their child participates in a complete and balanced diet. This is especially important for children within their early years, as good nutrition supports the body's dietary and energy needs, is fundamental for stable development, as well as better health throughout life2.
Meanwhile, unhealthy diets that include over consumption of saturated fats, sugar and salt can increase the risk of certain diseases3. So, keep an eye on what they eat closely and ensure they get enough nutritional support to outweigh the bad.
A healthy diet for children should consist of vegetables, fruits, whole grains, and healthy protein4.
Maintaining a healthy diet for children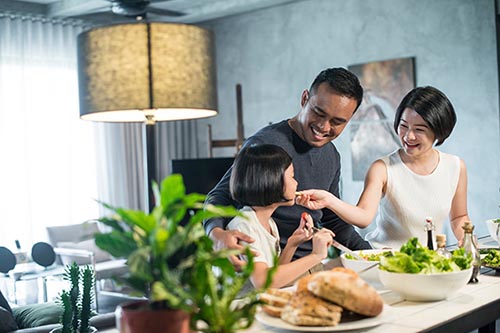 Although we know they need a balance of vegetables, fruits, wholegrains and healthy protein, the quality of these nutritional components matter greatly – for example, the quality of carbohydrate is more important than its quantity when it comes to their diet5.
But, what does a healthy diet constitute? These four key crucial nutritional factors – protein, fat, carbohydrate, as well as vitamins and minerals - are the key to balancing out their plate.
Protein: Protein is essentially everywhere and helps build and repair our body's tissues6. It also carries the enzymes that allow chemical reactions, as well as the haemoglobin that carries oxygen within the blood.
When the body lacks protein, it can result in growth failure and the loss of muscle mass as the body's immunity reduces. Protein deficiency can also lead to health problems with the heart and respiratory system7. Protein sources for children include cheese, eggs, grains, nuts, seeds and lean meats. PediaSure's formulation is packed with a Triple Protein Complex that allows sustained absorption of amino acids for the body's effective use.
Fats: Healthy fats help supply fatty acids and supports the absorption of fat-soluble vitamins such as Vitamins A, D, E and K8. Moreover, fats within early childhood are essential to support their neurological and brain growth.
Good fat sources for children are unsaturated fat, which are monounsaturated fats (olives, peanuts, sesame seeds) and polyunsaturated fats (soybean, fish, canola oil)9. These types of fats are beneficial as they can stabilise heart rhythms, as well as treat inflammation10. PediaSure contains a lipid blend with MCT (a type of fat), which allows rapid absorption and can quickly metabolise for energy.
Carbohydrates: Carbs are a necessary part of a child's diet as they act as a source of energy. There are two forms of carbs – simple carbohydrates (simple sugars) and complex carbohydrates (starches).
Examples of simple carbohydrates are foods that include fructose, glucose, lactose and sucrose11, such as those found in fruit, while complex carbohydrates can be found in starchy vegetables, grains and rice12.
Children over the ages of two should include 50 to 60 per cent of carbohydrates in their diet13. PediaSure's newly launched plain variant offers 0 per cent sucrose and includes an advanced carbohydrate blend has been added to ensure your child has energy throughout their day.
Vitamins and Minerals: Vitamins and minerals are critical in a child's diet as they support various functions within the body. However, each vitamin has its own specific set of functions. Vitamin A supports healthy skin, growth, vision, and tissue repair, while Vitamin B assists in the production of red blood cells, as well as metabolic activities. Meanwhile, other important vitamins include Vitamin C, which helps the body heal and fight infection14.
Minerals, such as iron, are equally critical during their periods of accelerated growth as it helps promote a healthy appetite, while calcium helps develop strong bones and teeth. PediaSure contains 29 essential vitamins and minerals that all work together to improve your child's appetite and nutritional status.
Prebiotics and Probiotics: Both have a major impact on a child's gut flora – they work together to support crucial body functions. Probiotics are present within supplements or in food products that contain viable microorganisms to supports the microflora, while prebiotics are non-digestible food ingredients that stimulates the growth and activity of probiotic bacteria15.
Prebiotics and probiotics work hand-in-hand, and when combined they form a 'synbiotic' which promotes the growth of healthy bacteria, while flushing out the efforts of harmful bacteria within the digestive system. PediaSure includes a synbiotic known as Lactobacillus Acidophilus and probiotic FOS to improve the body's defense system for up to 64 percent less sick days.
A parent's role in a child's diet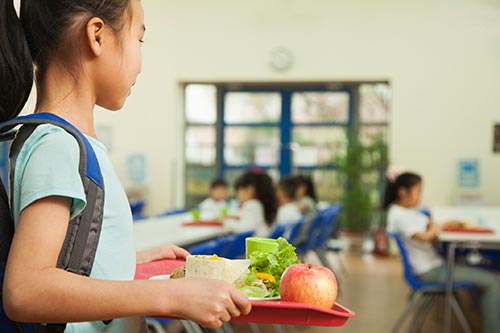 However, as parents are always on-the-go, juggling various errands and tasks throughout the day, it can be difficult to keep a close eye on your child's dietary needs.
This is where PediaSure provides adequate complete and balanced nutrition to meet their daily nutritional requirements with ease.
PediaSure contains a nutritional mix to provide a complete and balanced supplement that is proven to achieve optimal growth in your child. It contains the right proportion of macronutrients (fat, protein and carbohydrate), a triple protein complex and a lipid blend with MCT.
Its formulation is also packed with bone building nutrients including arginine, natural Vitamin K2 and calcium to promote the development of strong bones.
Plus, you don't have to worry about picky eaters - PediaSure has several flavours that children will love. This includes a newly launched PediaSure plain variant with 0 per cent sucrose that not only caters to your child's taste preference and lifestyle, but also packs all the nutrition they need for visible growth results in eight weeks!
1 (2015, March 25). Longitudinal growth and health outcomes in ... - PubMed. Retrieved November 13, 2020, from https://pubmed.ncbi.nlm.nih.gov/25808062/
2 (2019, June 1). Nurturing Children's Healthy Eating: Position statement .... Retrieved November 9, 2020, from https://www.sciencedirect.com/science/article/pii/S0195666318313412
3 (2019, June 1). Nurturing Children's Healthy Eating: Position statement .... Retrieved November 9, 2020, from https://www.sciencedirect.com/science/article/pii/S0195666318313412
4 (n.d.). Kid's Healthy Eating Plate | The Nutrition .... Retrieved November 9, 2020, from https://www.hsph.harvard.edu/nutritionsource/kids-healthy-eating-plate/
5 (n.d.). Kid's Healthy Eating Plate | The Nutrition .... Retrieved November 9, 2020, from https://www.hsph.harvard.edu/nutritionsource/kids-healthy-eating-plate/
6 (n.d.). Protein | The Nutrition Source - Harvard TH .... Retrieved November 9, 2020, from https://www.hsph.harvard.edu/nutritionsource/what-should-you-eat/protein/
7 (n.d.). Protein | The Nutrition Source - Harvard TH .... Retrieved November 9, 2020, from https://www.hsph.harvard.edu/nutritionsource/what-should-you-eat/protein/
8 (n.d.). Role of Dietary Fat in Child Nutrition and Development .... Retrieved November 9, 2020, from https://academic.oup.com/jn/article/129/11/2094/4721978
9 (n.d.). Types of Fat - Harvard TH Chan School of .... Retrieved November 9, 2020, from https://www.hsph.harvard.edu/nutritionsource/what-should-you-eat/fats-and-cholesterol/types-of-fat/
10 (n.d.). Types of Fat - Harvard TH Chan School of .... Retrieved November 9, 2020, from https://www.hsph.harvard.edu/nutritionsource/what-should-you-eat/fats-and-cholesterol/types-of-fat/
11 (n.d.). Carbohydrates - Sucrose - Chemistry@Elmhurst. Retrieved November 13, 2020, from http://chemistry.elmhurst.edu/vchembook/546sucrose.html
12 (n.d.). Carbohydrates, Sugar, and Your Child. Retrieved November 9, 2020, from https://www.rchsd.org/health-articles/carbohydrates-sugar-and-your-child/
13 (n.d.). Carbohydrates and Sugar (for Parents) - Nemours KidsHealth. Retrieved November 13, 2020, from https://kidshealth.org/en/parents/sugar.html
14 (n.d.). Vitamins for children - NHS. Retrieved November 9, 2020, from https://www.nhs.uk/conditions/pregnancy-and-baby/vitamins-for-children/
15 (2010, December 1). Probiotics and Prebiotics in Pediatrics | American Academy of .... Retrieved November 9, 2020, from https://pediatrics.aappublications.org/content/126/6/1217