WHP MODIFIED LIAN HUA QING WEN
You will get 40 CARING Points when you purchase this item.
Any enquiries related to product information, please message us via LiveChat and our pharmacist will assist you within the operating hours of 10 am to 4 pm from Monday to Friday. (excluding weekends and public holidays)
FREE HOME DELIVERY

From RM150 (West Malaysia Only)

CLICK & PICK

Collect your parcel at nearest CARING PHARMACY branches

REWARD POINTS

With any purchase and redeem upon checkout

PAYMENT METHODS

Credit cards, e-wallets and more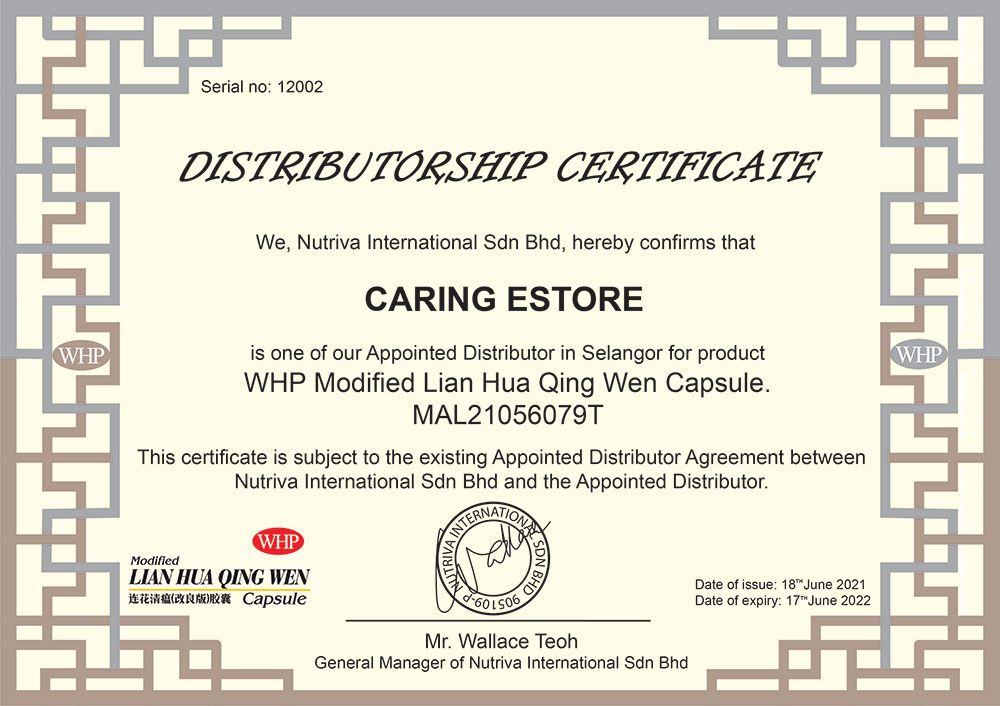 WHP MODIFIED LIAN HUA QING WEN
(MAL number: MAL21056079T)
WHP Modified Lian Hua Qing Wen Capsule contains traditional herbs such as :
Fructus Forsythia Suspensa, Flos Lonicera Japonica, Gypsum Fibrosum, Radix Isatis Indigotica, Rhizoma Dryopteris Crassirhizoma, Herba Houttuynia Cordata, Semen Prunus Armeniaca, Herba Pogostemon Cablin, Radix et Rhizoma Rhodiola Crenulata, Radix et Rhizoma Glycyrrhiza Uralensis, Herba Mosla Chinensis, Radix et Rhizoma Aster Tataricus, Fructus Trichosanthis Kirilowii and Radix et Rhizoma Rheum Palmatum.
Indication:
Traditionally used to reduce body heatiness, relieve cough and phlegm. Start consuming ONLY when begin to have fever or cough. Please consult a doctor for use beyond 7 days.
Dosage:
Adult - consume 2 capsules each time, 3 times daily after meal.
Children - consume upon doctor's advice
Pregnant women - NOT recommended
Breastfeeding women - NO data support on safety yet. Please check with doctor.
Potential side effect : mild diarrhea